When your passion and love for music translates into the production of music itself, it then becomes important that you set up your very own home studio for music recordings and productions. It will cost you bucks and you should know that but you do not necessarily have to stack up your studio with highly expensive instruments and appliances that will leave you reeling in debt.  It is for that reason we have compiled a list of the best studio headphones under 100 dollars since this is one of the most important equipment you'll greatly need to start out.
Before we go deep into our review and recommended picks of the best budget studio headphones, we deem it necessary that we first acquaint you with how you may go about choosing the best of the lot for your studio and home recordings. So, the next parts of this write-up will be dedicated to explaining the most important things you'll need to consider while shopping for the best studio headphones on the market.
In a hurry ?
Sony MDR7506 Professional Large Diaphragm Headphone  is Our #1 Pick on Amazon

Choosing the best studio headphones under 100 dollars

Since you are clear of the price range, the problem of budget is already solved. It is important you select the best headphones for your studio recordings. For recordings, the open-back type of headphones is the best while the closed-back headphone types are the most suitable for mixing. Both types are well represented in our review of the best budget headphones under $100. You may decide to have both of these all the same.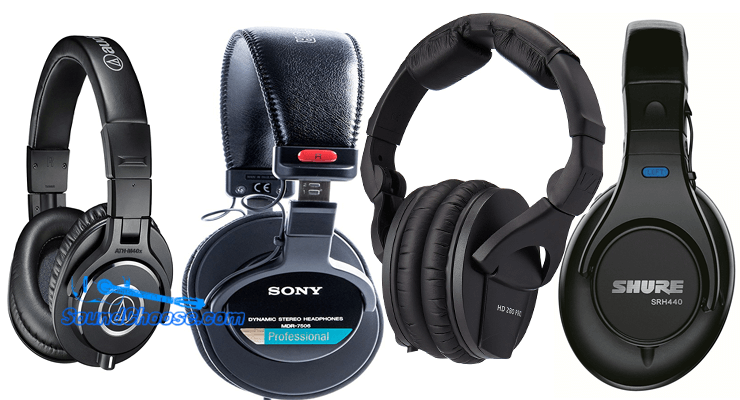 Things to look out for in the best studio headphones under $100
Consider these four important things when shopping for your studio headphone to ensure you only get the best;
Comfort
Extra-padded headphones with great comfort are a great choice and should be considered. Having uncomfortable headphones could be painful and hurt your head and ears when you have to go through extended recording or listening sessions.
Durability
Look out for headphones with durable and sturdy build. You'll find some of these in our picks for the best headphones under $100 as they offer more value and reliability in the long run.
Headphone Type
We pointed out already that these cans come in both open-back and closed-back designs, each with its benefits and drawbacks. For recordings, open-back types are the best while you can count on closed-back headphones for perfect sound mixing. You may choose from any of these designs and better still, you can have both readily available.
Frequency response
The frequency response along with the sound quality is perhaps the most important of all. Choose a pair of headphones with loud and clear bass these are needed for a perfect beat-match. Headphones with flat and balanced frequency response allow you to listen to sound in their natural state and this is no doubt what you'd want.
Which are the best headphones under $100?
For under $100, we checked out some of the best headphones under $100 and even though the market is saturated with lots of headphones with just the price and tag they carry, we managed to find some of the best with great sound qualities and decent designs and construction. This review covers five of the best budget headphones under 100 USD and in no particular order, we list them out below.
Top 5 Best Studio Headphones under $100

1. Sennheiser HD280PRO: [Best Pro Headphones under $100]
Our Rating:
(4.3 / 5)
When you need a professional-level pair of headphones to give you the balanced audio output you'll need for your recordings, then this affordable set of cans from Sennheiser should no doubt be one of your top priorities. The Sennheiser HD280Pro sports a utilitarian look and its lavish use of cushions ensure it gives you the comfort needed for long hours of mixing and recording. We check out some of the other great features that have made the Sennheiser HD280Pro a top choice among DJs and sound enthusiasts alike.
Features and Description
Pros
Great bass with clear mids and treble
Excellent noise isolation
Neutral but still exciting
Cons
2. Sony MDR7506 Professional Studio Headphones
Our Rating:
(4.6 / 5)
If there is one quality headphone that has stood the test of time, then it is this affordable Sony MDR7506. These headphones have been around for over twenty years and today their untainted reputation for quality, comfort, and durability has ensured that they remained on most lists and reviews of the best studio headphones under $100. They have been used by many experts in the industry and even though a lot of time had come and gone since they first came into production, the Sony MDR7506 are still standing tall and they are still one of the most valuable headphones you can get for under $100.
Features and Specifications
Pros
Greatly balanced output
Comfortable and lightweight
Highly durable with replaceable pads
Cons
The cable is not detachable
3. Audio Technica ATH M-40X
Our Rating:

(4.4 / 5)
Odds are high that you may have heard about the Audio Technica ATH M-50X. the more popular sibling of the Audio Technica ATH M-40X is touted as the professional monitor but the ATH M-40X for just under $100 is one of our top picks for the best studio headphones under $100. It features the same sound quality and design as the ATH M-50X but sports a more neutral sound signature.  Although made from plastic, the sturdy build makes them one durable pair and hardly will you find a review of the best budget headphones where they are not featured, most times even on top.
Features and Specifications
Pros
Great sound quality
Easily-detachable cables
Comfortable and lightweight
Cons
4. AKG K 240 Semi-Open Studio Headphones
Our Rating:
(4.3 / 5)
It's incredible that so far, we've been reviewing the best studio headphones under $100 and our list has been full of reliable big name brands. The AKG is another name that is respected in the audiophile headphones industry and their excellence and quality are shown in yet another product in the form of the AKG K 240 which brings studio-quality headphones down into easily affordable cost, well under $100. It is by far the most affordable on our list and it features both closed and open design to give you the best of both worlds.
Features and Specifications
Pros
Decent bass output
Flat and thrilling frequency response
Comfortable self-adjusting headband
Cons
The sound seems to somehow leak out
5. Shure SRH440 Professional Studio Headphones
Our Rating:

(4.1 / 5)
The Shure SRH440 Studio Headphones may look very plain and basic but that is just about the looks. The amazing headphone from the Shure audio company has the features and performance of a professional level studio headphone and will perfectly bridge the gap between audiophile and casual listening. While rocking a simple look, the Shure SRH440 offers great bass that is never out of balance as well as a clean mid and detailed treble.
Features and Specifications
Pros
Detachable cables with removable ear pads
Punchy bass with balanced audio
Great noise isolation
Comfortable
Cons
These five offers great value with excellent sound reproduction, great design and build quality all perfectly blended into affordable headphones of different brands. The AKG K 240 is the most affordable pair on our list of the best studio headphones under $100. The Sony MDR7506 seems the most popular. The ATH M-40X, as well as the Sennheiser HD280Pro, has quite a lot of positive user feedback on Amazon and other online stores. Along with the Shure SRH440, these affordable headphones are the best studio headphones under $100 with great value and quality.
Final Thoughts
For the best studio recording and mixing sessions, you need the best headphones you can possibly get. And while pricing may be a hindrance to getting most of the premium headphones available in the market. The 5 headphones reviewed above offers great professional performance and if you ever need the best studio headphones under 100 dollars, any of these will fit in perfectly.