You only have one pair of ears, so you should take care of them to avoid hearing loss or other related issues. Noise and foreign materials, like water and dust, can damage your ears. So, if you are used to loud music in concerts, you should find a way to protect your ears from excessive, ear-damaging noise. And that is where Minuendo Adjustable Earplugs come in. They will protect your ears from noise and keep water and other foreign elements from getting into your ears.
These earplugs have been highly rated by many users worldwide. And today, we want to compile an honest Minuendo Adjustable Earplugs review. Keep reading to learn more about these earplugs.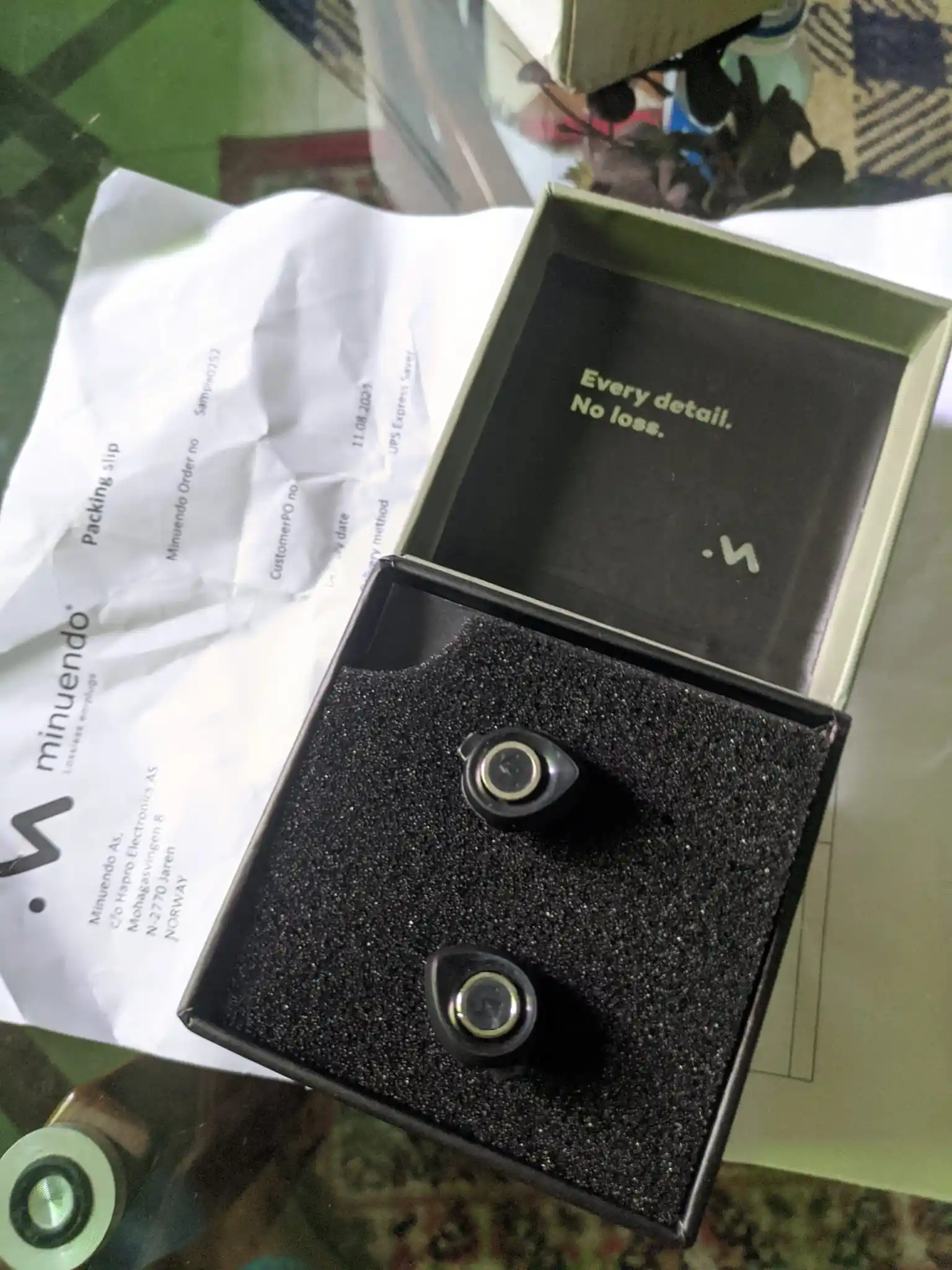 Minuendo Adjustable Earplugs Description
Minuendo high-fidelity acoustic earplugs are well-built to offer ultimate ear protection, especially if you are in a loud music concert or a noisy environment. The device comes with a patented membrane technology, providing a flat frequency response allowing the user to enjoy a clear and natural sound.
In addition, these advanced earplugs offer adjustable hearing protection, allowing you to control your sound environment with step-less adjustments from 7dB to 25dB. As a result, the earplugs are ideal for gigs, concerts, motorsports, construction sites, singing practice, and more, thanks to their ability to control the surrounding sound.
Minuendo Earplugs come with 11 sets of tips, allowing users to find the perfect fit. The tips are made of silicone, foams, and flange, and come in different shapes for ultimate comfort. They block sound effectively and won't hurt or fall out easily.
These earplugs are built to last with the highest focus on natural sound quality. They have practical noise reduction ideal for every environment.
Minuendo Earplugs are lightweight and come with a magnetic locking system that keeps them together, making it hard to lose them. What's more, these high-fidelity earplugs are easy to carry around the neck or using a portable carry case.
Features
Natural flat frequency response
Has a variable passive Hi-Fi filter
Stepless adjustment (7dB to 25dB)
Patented adjustable membrane
No batteries required
Lightweight
Pros
Guarantees high-quality natural sound
Stepless manual adjustment gives you complete control over your sound environment
With a magnetic locking system, it is difficult to lose them
Perfect fit and cushion for ultimate comfort
Durable earplugs
Cons
Some customers say that they are relatively expensive compared to their competitors
Who Needs Minuendo Adjustable Earplugs?
Minuendo Adjustable Earplugs are built for all, both adults and kids. They are specially made for persons who want to control their sound environment and enjoy high-quality natural sound. Musicians practicing in a studio can use these earplugs to have the best experience and protect their ears from excessive noise.
In addition, if you like going to parties, gigs, and concerts, you will need Minuendo earplugs to protect yourself from excessive, ear-damaging noise. Also, those working in the construction and manufacturing industries can use these earplugs as they have high-fidelity sound and hearing protection.
You can wear these earplugs while you sleep, during rehearsals, gigs, while traveling, or even at work.
Why Do You Need Minuendo Adjustable Earplugs?
Minuendo adjustable earplugs offer excellent hearing protection without compromising the quality of sound and comfort. The ear plug will allow you to enjoy natural quality sound even if you are in a noisy environment, like a concert or construction site.
How to Use Minuendo Adjustable Earplugs
Here is how to use Minuendo adjustable Earplugs;
Unpack the package and identify the right and the left earplugs
Ensure the lever is fully closed in the forward-facing position
Choose the ear tips to use and insert them in the nozzle of the earplugs
Lift your ear slightly and insert the earplug, with the lever pointing up
Adjust the earplug with a finger to fit perfectly
To adjust the sound level, move the lever accordingly to suit your unique sound environment
Benefits of Using These Adjustable Earplugs (INTL)
There are many benefits of using Minuendo adjustable earplugs, and here are a few of them;
Offer the best hearing protection in any sound environment
Guarantee high-quality natural sound in any environment
No leaks even when singing or moving the jaws
They are built to last and can withstand wear and tear – giving you the best value for money
Will improve your focus, especially while at work
Protect your physical health by minimizing exposure to irritating sounds
Improves sleep by minimizing noises that can disrupt your sleep
How Does Minuendo Adjustable Earplugs Compare with Other Top-Rated Earplugs?
Minuendo Earplugs have been tested against some of the top-rated earplugs in the market right now. And without a doubt, Minuendo did excellently. When compared with Anbow Silicone Ear Plugs, Minuendo matched it with 5/5 ratings in comfort and 4.5/5 ratings in noise reduction. But Minuendo is relatively expensive probably because of its adjustable, sleek design and 11 ear tips for a perfect fit.
When compared with Loop Quiet, Minuendo is good in terms of blocking noise. It blocks up to 25dB while Loop Quiet blocks up to 27 dB. Both earplug models come with soft silicone, but Loop Quite has a loop, making them easy to put in and take out. But both devices are suitable for sleep as they offer better hearing protection without compromising on sound quality and comfort.
Is it Worth Buying?
Yes, Minuendo Adjustable earplugs are worth every cent. The device offers hearing protection in any sound environment and is extremely comfortable. In addition, they don't compromise on sound quality. Most importantly, the earplugs will last long depending on how you use and care for them.
FAQs
Do Minuendo Earplugs work?
Yes, Minuendo earplugs offer excellent hearing protection.
What is Minuendo?
Minuendo is a leading manufacturer of hearing protection devices.
Do Earplugs really block Noise?
Earplugs do not block noise, they attenuate noise.
Final Words
Minuendo Earplugs are one of the leading options when it comes to hearing protection devices. From the above honest Minuendo Adjustable Earplugs review, it is easy to say that this device offers the best hearing protection, without compromising on sound quality and comfort. The earplugs are ideal for sleeping, gigs, concerts, rehearsals, and other sound environments.