Your speaker setup is not yet complete without tweeters that would help to reproduce high tones and frequencies in the best way. Tweeters are also called high-frequency speakers and their mechanism of operation is similar to regular mid or low-frequency speakers. These are almost always already built into full-range speakers but component speakers need them to be incorporated into the setup to efficiently reproduce high frequencies. This guide and review details the best tweeter speakers as these will always be a significant addition to your existing speaker setup if it is yet to be in place.
Why you need the best car tweeters
Maybe you are asking yourself, do I really need tweeters? It depends. When you plan to upgrade your car's audio system and would be replacing your factory speakers with better high-fidelity component speakers, it is only advisable to incorporate tweeters into the setup to ensure your high-frequency reproduction does not get annoying flat or distorted. The small compact tweeters are able to reproduce frequencies that range from 2000 Hz to 20,000 Hz.
With the best tweeters, reproducing high frequencies in your vocals, guitars and high notes will generally make your music seem more brilliant and flow better. For audiophiles with great interest in proper sound staging and imaging, the best car audio tweeters will make your music sound like its firing from all angles around you. When you consider all of these, you'll see that you don't only need tweeters but you need the best tweeter in the world. We'll list 5 recommendations for you in the latter parts of this review.
How to choose the best tweeter speakers
The market for car audio tweeters is saturated and newbies can easily get lost trying to find the best tweeter in the world for their autos. This is why proper knowledge of the basics is always beneficial whenever you'd be shopping for car tweeters to enhance your car's audio system. We'll list out the most important things you should consider while trying to make your decision in the following paragraphs.
In a hurry ?
JBL GTO19T Premium 0.75-Inch Component Tweeter is Our #1 Pick on Amazon

Things to consider when shopping for the best car tweeters
We'll briefly discuss these in brief short paragraphs to clearly outline what this is all about.
Tweeter shape and design
Tweeters come in four shapes. There is the cone design, the semi-dome design, the inverted dome design as well as the dome tweeter design which is the considered the best design due to its sound dispersion.
The build quality and materials
Because the build materials would usually impact the sound quality, it is necessary you know the type of tweeter you'll need. These tweeters are usually made from super-light, less rigid materials such as titanium, synthetic fibers, silk, etc. Mylar, polyimide, and PET are used in most budget tweeters because they would normally operate with less power requirement although they often lack the stiffness and damping capabilities for proper high-quality output.
Textile materials such as silk are able to maintain greater precision and accuracy of sound. They are oftentimes used to reinforce synthetic materials for damping. Metals such as titanium and aluminum are also often used as these deliver the best high frequencies that still shine through noise and bass. So, when you check the build materials and components of your tweeters, you should know what to expect.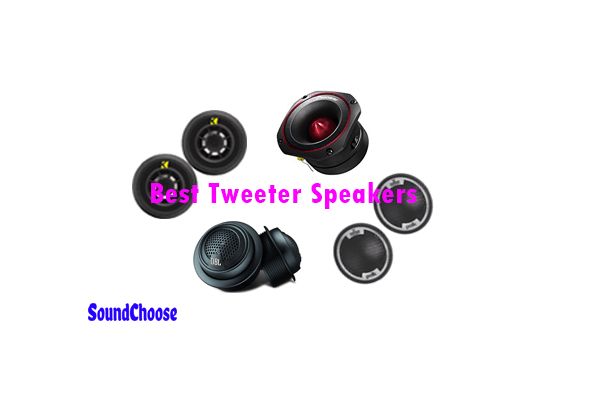 Top 5 Best Tweeter Speakers

1. Kicker CST20 ¾'' Tweeters
Our Rating:
(4.5 / 5)
Kicker is a popular name in the industry with a long-standing reputation for both quality and affordability. When you need an affordable pair of tweeters to enhance your speaker's audio output, the Kicker CST20 can be yours for much less under $50. At such a fair price, you get a pair of tweeters with a completely easy installation kit. The pair is loved by most users and has received rave reviews for their quality and affordability on Amazon and a host of other retail outlets
Features and Specifications
Pros
Very easy to install
Easily the most affordable of the best car tweeters
Clear and crisp sound delivery and precise high tones
Cons
Has a lower power handling capacity compared to its competitors
2. Pioneer Pro Series TS-B400Pro 4″ 500W Bullet Tweeter
Our Rating:
(4.3 / 5)
Here comes one of the most efficient tweeters available right now and it's going for a few dollars under $50, not too much of a sacrifice to make for audiophiles who need clean and loud sounds in their cars. This is so when you consider that this single powerful tweeter is capable of a peak power handling of 500 Watts and an RMS of 200 Watts. Its construction from quality components ensures the sound distribution remains excellent and in a saturated market with a lot of both audiophile-grade and mediocre components, the Pioneer Pro Series TS-400Pro 4'' 500W Bullet Tweeter has managed to forge a reputation of its own.
Features and Specifications
Pros
Great sound, crisp and clean
More affordable than other tweeters with almost the same quality
Cons
You may find it to be a little too hard to install due to its size
3. JBL GTO19T Component Tweeter
Our Rating:

(4.4 / 5)
JBL is a strong name in the industry that is well-respected for how they've always been able to blend performance with design and value. The GTO19T features a textile fabric design and over-sized coils for proper heat dissipation and power handling, a result of which you get to listen to and enjoy high frequencies that are vibrant and free from fatigue. If you are familiar with the JBL GTO18T, the older sibling which also happens to be one of the best 1'' car tweeters, the GTO19T is a great improvement over that already-impressive model that to some people is still one of the best tweeter speakers you can find around.
Features and Specifications
Pros
Excellent sound output
Very easy to install
Great price for greater value
Very clear highs and mids
Cons
Some people may find the bass to be less punchy
4. Polk Audio DB10011-Inch Silk/Polymer Composite Dome Tweeters
Our Rating:
(4.6 / 5)
Besides the fact that the Polk Audio is a brand you can reliably trust, the Polk Audio DB1001 is rightly one of the best tweeter speakers right now. This is definitely one of the best car audio tweeters to have come from the ranks of Polk Audio. The highly revered Polk Audio DB1001 is marine-certified. This indicates its potential for resilience and reliability in the face of challenging and extreme conditions such as heat, long-term exposure, stress and much more. The 1-inch liquid-cooled dome tweeter and neodymium magnet enable symmetric and accurate voice coil movement whether at low or higher volumes.
Features and Specifications
Pros
Reliable and durable
Excellent sound output delivery
Easy to install
Cons
They may look and feel a little bulky
5. Rockford Fosgate Prime R1T-S
Our Rating:
(4.3 / 5)
We have the Rockford Fosgate Prime R1T-S as the last member of our review of the best tweeter speakers but it not what you'd just decide to walk over. We've reviewed tweeters in an industry with hundreds of different competing brands and believe me it was not easy to review this down to a five-member group. It is not like these are the only best car audio tweeters today, it just that we feel these are the top-rated and best 1'' tweeters as far as generating clear and high frequencies are concerned. Of all the tweeter speakers we reviewed, the Rockford Fosgate seems the most affordable despite its mouth-watering features and performance.
Features and Specifications
Pros
Easy to install
Decent sound output
Affordable and not costly when compared to others
Cons
The sound output may seem a little harsh
Some people may find them not loud enough
When you need the best tweeter speakers to spice up your high tones reproduction for a clear and crisp sound, any of these would do. Although our top pick is the Kicker CST20 with far greater value in terms of cost and performance, any of these would do just as great.
Final Words
For audiophiles and even non-audiophiles, having a set of tweeter speakers incorporated into your car's stereo system is a non-negotiable deal. This is especially so if you'd like high-frequency vocals, music, instruments and more to come alive and precise in the exact manner the artists had wanted them to be.
Considering the fact that most of these tweeters are inexpensive, you can easily pick up your choice from our recommendations of the best tweeter speakers and brace yourself up for exciting and fun entertainment on a whole new level.